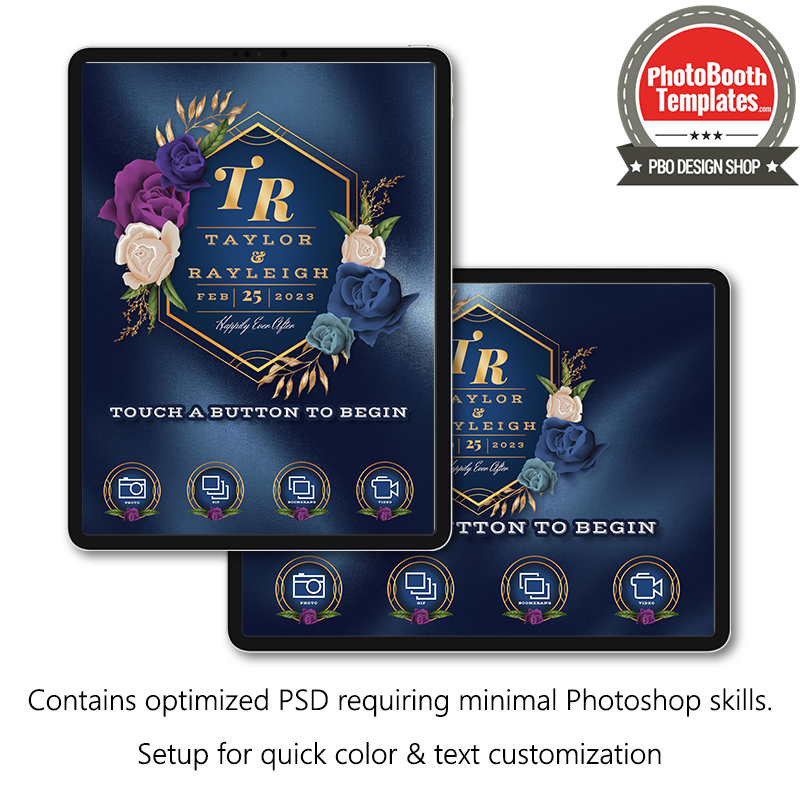 Blooming Floral Sophistication iPad Welcome Screens
$25.00
SKU:

1db70df3-aff9-41b4-b513-a1c4140536bf
Categories: iPad, Screens, Weddings
Tags: autumn, botanical, Breeze Booth, floral, flowers, garden, geometric, iPad, Metallic texture, Mobibooth Cloud, modern, monogram, Pixbooth, satin, screens, seasonal, Snappic, spring, terrarium, user interface, vintage, wedding, welcome screens, winter
Description
Turn your iPad photo booth app's welcome screen into this sophisticated template that features both vintage and modern elements, such as vibrant flowers coupled with a geometric terrarium-like metallic text badge, all on top of a satin textured background. The text features an optional monogram for initials, making it perfect for weddings, but can be removed or replaced with regular text to suit other occasions as well! It is the perfect theme for weddings, bridal showers, etc. All colors are customizable to match event theme.
With these welcome screen templates, you can modify the colors within the PSD through provided hue/saturation layer. For more information on how this is done please watch the Modifying Template Colors video from our YouTube channel. These screen photo booth templates can be modified using Photoshop CC and Photoshop Elements 2020 and up.


The package contains the following contents:
Landscape PSD
Portrait PSD
Ready to use start screen JPEG files. Landscape and portrait included.
Ready to use general screen JPEG files. Landscape and portrait included.
Photo Booth Software
These screens should be supported by most photo booth applications on the market. Listed below are some that are known to work with the files.
Breeze Booth (DSLR/webcam/iPad)
Darkroom Booth for iPad
Fotozap
Snappic
Luma Booth
Mobibooth Cloud
PixBooth (Curator)
Salsa Booth App
* NOTE: Screens can be used with other photo booth applications as well.
Designer:
Chloe Hidalgo. See more designs by Chloe Hidalgo.