NOTICE: All of our templates required either Photoshop or Photoshop Elements to modify colors, hide elements and use text effects as shown. The single sample image shown is the default graphics included in the template without text. Multi-color samples are shown as an example of the possibilities with this template.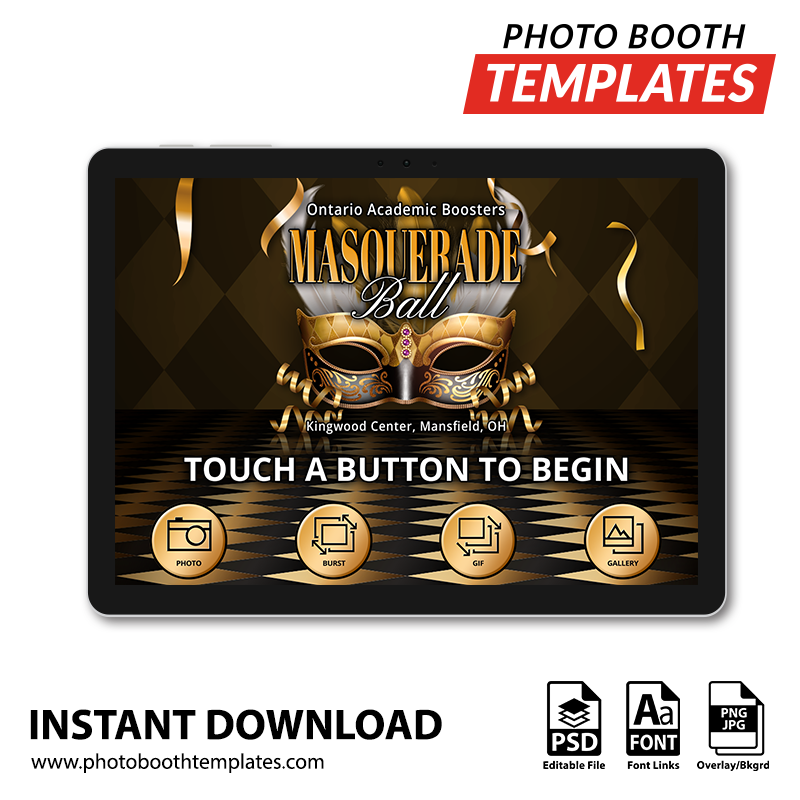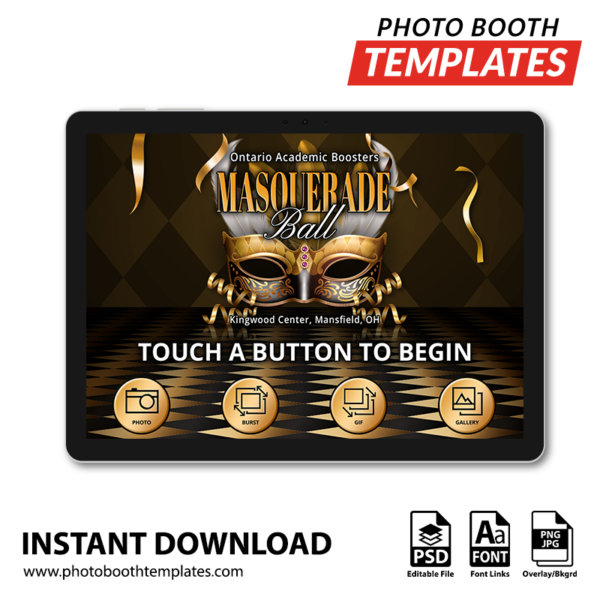 Glamorous Gala PC Welcome Screens
$25.00
Turn your Surface Pro or PC-based photo booth application's welcome screen into this elegant design that comes a glamorous mask, a vintage diamond-patterned background, and more! It is perfect for any masquerade, carnival, Venetian-themed event, or even a Mardi Gras event, such as weddings, birthdays, anniversaries, proms etc.! All colors are customizable to fit any event theme.
With these welcome screen templates, you can modify the colors within the PSD through provided hue/saturation layer. For more information on how this is done please watch the Modifying Template Colors video from our YouTube channel. These screen photo booth templates can be modified using Photoshop CC and Photoshop Elements 2020 and up.

The package contains the following contents:
HD Landscape PSD
HD Landscape PSD
Surface Pro Landscape PSD
Ready to use start screen PNG files for HD PC screens 1080×1920, 1920×1080, and Surface Pro 2736×1824.
Ready to use general screen PNG files for HD PC screens 1080×1920, 1920×1080, and Surface Pro 2736×1824.
Photo Booth Software
These screens should be supported by most photo booth applications on the market. Listed below are some that are known to work with the files.
Breeze Booth (DSLR/webcam)
Darkroom Booth 3
dslrBooth Pro
Photoboof
Social Booth
Sparkbooth
* NOTE: Screens can be used with other photo booth applications as well.
Designer:
Mark Giesige. See more designs by Mark Giesige.
Cross Sells...
$

29.00