NOTICE: All of our templates required either Photoshop or Photoshop Elements to modify colors, hide elements and use text effects as shown. The single sample image shown is the default graphics included in the template without text. Multi-color samples are shown as an example of the possibilities with this template.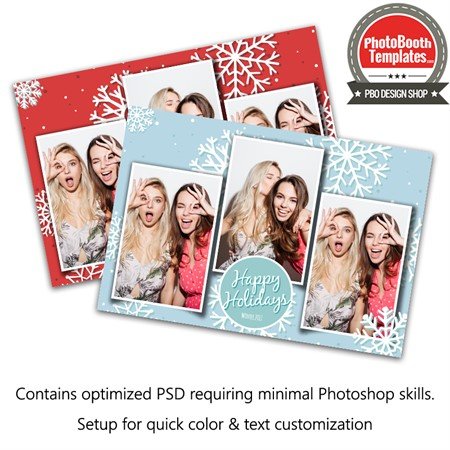 Snow Daze Postcard
$29.00
SKU:

ca5ead49-6914-4023-a26f-5a11e5c5b490
Categories: Breeze Systems, Darkroom Booth, dslrBooth Pro, Holiday & Christmas, Photo Booth Templates, Photoboof, Postcard Layouts, Social Booth, Sparkbooth Commercial, Winter
Tags: 3-pose, Breeze Systems, christmas, cold, corporate, darkroom booth, DSLR, dslrbooth pro, fun, hanukkah, holiday, mirror 3-pose zigzag postcard, new years, office, party, photoboof, Portrait Photos, season, simple, snow, social booth, sparkbooth commercial, trees, winter
I mean, what else could you need for the winter season? This versatile template truly captures the "let it snow" mentality of the holiday season!
With this template you can modify the colors within the PSD through provided hue/saturation layer. For more information on how this is done please watch the Modifying Template Colors Using Our EZ Adjust Color Palette™ video from our YouTube channel. This photo booth template can be modified using Photoshop CS2+ and Photoshop Elements 10+.


The package contains the following contents:
background.jpg
overlay.png
template.psd
template-elements.psd
links to all fonts
Photo coordinates and dimensions included in PSD and coordinates.txt file
Configuration file*
* Darkroom Booth, dslrBooth Pro, Photoboof, Social Booth include configuration files.
Photo Booth Software
This templates is officially supported for the following photo booth applications:
Darkroom Booth (see how)
DSLR Remote Pro for Windows/Mac by Breeze Systems
dslrBooth Pro (see how)
NKRemote by Breeze Systems
Photoboof! (see how)
Social Booth (one-click see how)
Sparkbooth Commercial/Layout Creator
* NOTE: other photo booth applications can be used even if we do not have an official package for them. Others known to work are Photo Booth Upload, SnapShot Studio
by Allen Christopher and PT Booth. You may need to trim the design in Photoshop to get the best results. Please see this
video to learn how.
This photo booth template is designed to work with the following printers:
DNP RX1
DNP DS40
DNP DS620
Hiti 510L/S
Hiti 720L
Shinko S6145 (CS2)
* NOTE: Other printers can be used with our templates but do require additional steps to get the best results. Please see this
video to learn how.
Designer:
Kyle Karnes
See more designs by Kyle Karnes.