NOTICE: All of our templates required either Photoshop or Photoshop Elements to modify colors, hide elements and use text effects as shown. The single sample image shown is the default graphics included in the template without text. Multi-color samples are shown as an example of the possibilities with this template.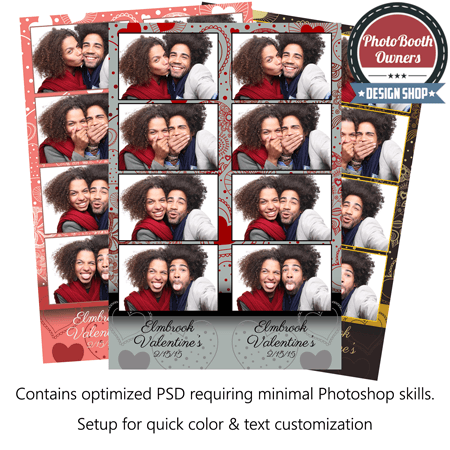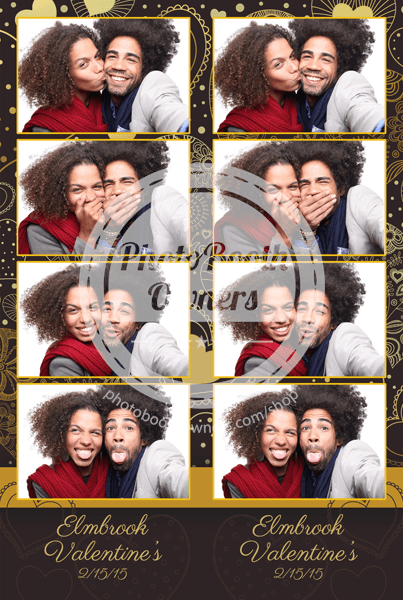 Whimsical Heart Celebration 4-up Strips
$29.00
SKU:

096a7909-b932-49ca-bc8c-40460f02324c
Categories: Breeze Systems, Darkroom Booth, dslrBooth Pro, Photo Booth Templates, Photo Strips, Photoboof, Social Booth, Sparkbooth Commercial, Valentines Day, Weddings
Tags: 4-pose, 4-up strips, Breeze Systems, darkroom booth, dslrbooth pro, elegant, hearts, photoboof, social booth, sparkbooth commercial, valentine's day, valentines
This photo booth templates displays a cute array of hearts, whimsically patterned in the background, with a thick border to separate a more subtle heart pattern behind the words.  Personalize for Valentine's day, special events or weddings. Each photo is framed with a thin border. Border, background and hearts colors can easily be adjusted to compliment any event.
With this template you can modify the colors within the PSD through provided hue/saturation layer. For more information on how this is done please watch the Modifying Template ColorsUsing Our EZ Adjust Color Palette™ video from our YouTube channel. This photo booth template can be modified using Photoshop CS2+ and Photoshop Elements 10+.

The package contains the following contents:
background.jpg
overlay.png
template.psd
template-elements.psd
links to all fonts
This design can be used with the following photo booth software packages:
Darkroom Booth
DslrBooth Pro
DSLR Remote Pro for Windows by Breeze Systems
DSLR Remote Pro for Mac by Breeze Systems
DSLRBooth Pro
NKRemote by Breeze Systems
PSRemote by Breeze Systems
Webcam Photobooth by Breeze Systems
Photoboof!
Social Booth
Sparkbooth Commercial
This photo booth template is designed to work with the following printers:
DNP RX1
DNP DS40
Hiti 510L/S
Hiti 720L
Shinko S6145 (CS2)
Designer:
Kirsten Crock
See more designs by Kirsten Crock.